Long-toed Salamander Ambystoma macrodactylum
Species at Risk: Sensitive
Description
Alberta has two native salamander species and both belong to the mole salamander family. The long-toed salamander is the smaller of the two and is approximately 80-120mm in length. In Canada there are three subspecies, and in Alberta we have the eastern subspecies, Ambystoma macrodactylum krausei. This salamander gets its name from its long, thin, unwebbed digits. The fourth toe on the hind leg is longest. They have a background coloration of dark green, grey or black with an attractive yellow vertebral stripe that can be surrounded by variable amounts of light colored flecks. There is usually a yellow patch over each eye. The belly is generally a light grey.
Habitat
The long-toed salamander lives in alpine and sub-alpine area in western Alberta. It is primarily nocturnal and generally only found during brief periods in spring and fall while it is moving to and from its breeding ponds. These can be lakes, ponds or shallow areas of exposed groundwater. With substrates of rocky glacial deposit the waters remain clear and more often than not, very cold. The adults can be found underneath rocks, rotting logs, and other debris around these wetlands.
Conservation
The long-toed salamander is doing well in Alberta. It was previously considered rare, however intensive surveys found many new populations of this secretive animal. Introduction of stock fish, and wetland drainage or destruction are threats common to this species elsewhere and may threaten Alberta populations with increased development along our western border. Mining and logging are two big Alberta industries that will impact this species as activities increase in the mountains and foothills. They increase sedimentation and pollute the clear water wetlands typical of this area.

References The Amphibians and Reptiles of Alberta by A.P.Russell and A.M.Bauer Western Reptiles and Amphibians, 3rd edition by Robert C. Stebbins
Top Of Page
Tiger Salamander Ambystoma mavortium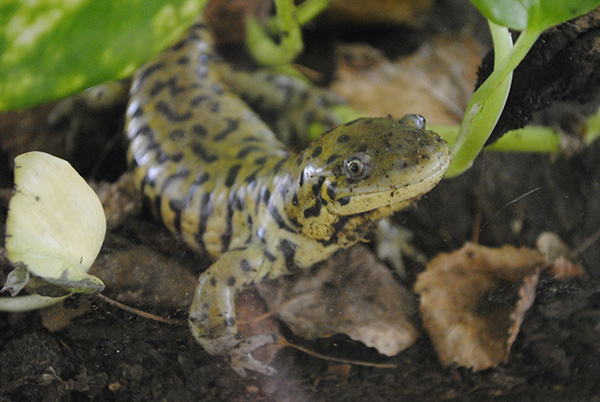 Description
Adult Tiger Salamanders are adorable, with short, rounded snouts, thick necks, short thick legs, and a long tail. Coloration varies with location and age. They are dark brown, green or black with orange-yellow, yellow, or yellow-white blotches. They are about 5.5-7 inches from nose to tip, with some individuals getting closer to 8 inches.
Eggs are laid singly or in small clusters on submerged objects. Larvae are about 0.5 inches when first hatched, and then grow to about 3-5 inches before metamorphosis. They can over-winter in the larval form, and sometimes take several years to reach maturity, though most mature in 3-4 months. Larvae have a large head with long, wide gill stalks. They are dull yellow, green or dark brown with pale bellies. Occasionally, some tiger salamander larvae never metamorphose into the adult form, and live their entire lives in the larval form, though they do grow to mature size, or even bigger than metamorphosed adults (7-15 inches!). These are referred to as "Neotenous".
Tiger salamanders are ravenous eaters, and will eat frogs, insects, small fish, young mice, worms and even other salamanders.
Habitat
The Tiger Salamander is one of Alberta's most common herp species, behind the Wood Frog and the Boreal Chorus Frog. They are found in most of Central and Southern Alberta. They like short-grass prairie, aspen parkland, boreal forest and subalpine regions. Like most amphibians, they do breed in the water, and their larval stages are aquatic. Tiger Salamanders breed in semi-permanent to permanent fish-less wetlands. As adults, Tiger Salamanders are primarily terrestrial. They are largely nocturnal and spend a lot of time underground in burrows, so while they are widespread in Alberta, you might not see them. That said, people often tell us about finding these guys in window wells, swimming pools and gardens.
If you are herping for Tiger Salamanders, check under logs and rocks near water sources. They are active from spring to fall, and like to come out in the rain!
Conservation
Tiger Salamanders are considered Secure in Alberta, though this status could change as global warming leads to habitat loss and degradation.

References AEP Alberta - Tiger Salamander Elkisland - Tiger Salamander A Field Guide to Western Reptiles and Amphibians" 3rd Ed, Peterson Field Guides, Robert C. Stebbins, 2003.
Top Of Page
Boreal Chorus Frog Pseudacris maculata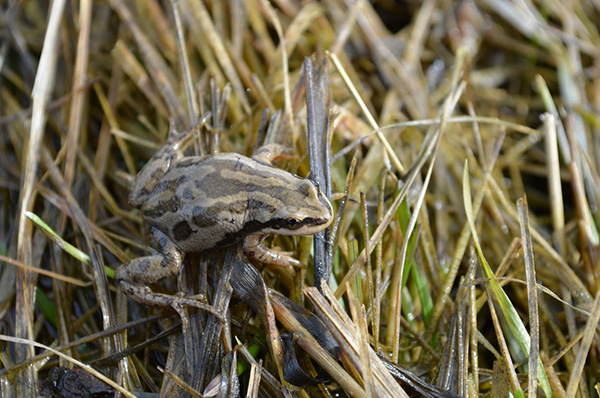 Description
Boreal Chorus Frogs are the smallest native species of frog living in Alberta. They range in size from only about 20-40 mm! They have 3 dark stripes on their back, and are also sometimes known as the Striped Chorus Frog. The background color ranges from brown to green, with a yellow to light green underbelly. Boreal Chorus Frogs are technically part of the tree frog family, but are poor climbers, so don't spend much time in trees. They feed on small insects.
Given their name, you can guess what Boreal Chorus Frogs are famous for: their voices! They emerge very early in the spring, in early April, congregate in large numbers, and the males immediately begin calling day and night. The call is described as being similar to running your fingers along the teeth of a comb. They lay between 150-1500 eggs, which hatch in 10-14 days. As you can imagine, the tadpoles are very small (4-7 mm), but grow to about 30 mm and metamorphose into juvenile frogs in only 2 months. In most of Alberta, they can breed in their second summer, but in the Northern half of the province, they generally don't breed until their third summer.
Habitat
Boreal Chorus frogs are widespread throughout Alberta (they even extend up into the Northwest Territories), though their range does not extend into the mountains. They can inhabit any fishless body of water that is at least 10 cm deep, so occupy sloughs, ditches, flooded fields, mashes, swamps, small lakes. They can survive being frozen
Conservation
Boreal Chorus Frogs are one of the most common frog species in Alberta. They are listed as Least Concern/Secure. Our belief, however, is that all reptiles and amphibians, regardless of conservation status, are deserving of protection. We want common species to remain common into the future. Threats to Boreal Chorus Frogs include toxins, like pesticides, and habitat loss.
References
Top Of Page
Boreal/Western Toad Anaxyrus (Bufo) boreas
Species at Risk: Sensitive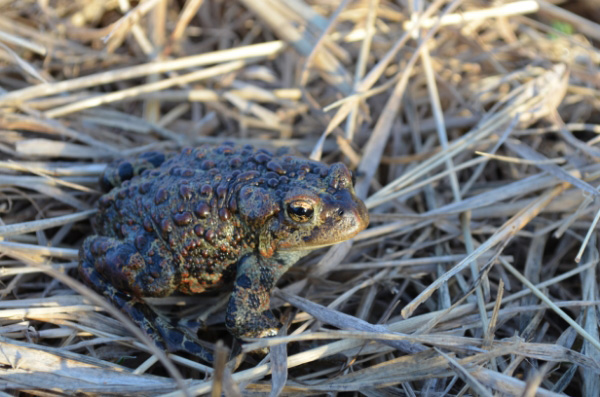 Description
There are 3 native "true toad" species in Alberta: the Canadian Toad, the Great Plains Toad, and the Western Toad. True toads have "warty" skin, little webbing between the toes, enlarged parotid glands, and prominent tubercles on their feet for digging. Western Toads can be distinguished from the other 2 true toad species by the lack of cranial crests between their eyes. They are green to light brown, with a light colored stripe down their backs. Warts are reddish-brown surrounded by black. Western toads are the largest of Alberta's toads, ranging from 2-5" in length.
Unlike many toads, Western Toads prefer to walk rather than hop. They are primarily nocturnal, being most active at night.
Adult Western Toads feed on slugs, worms, and insects, while tadpoles are algae eaters.. The average lifespan for a Western Toad is 9-11 years
Male Western Toads are sexually mature at 3 years, while the females are mature at 4-5 years. At breeding sites, males can out-number females 20 to 1. It is thought that this ratio may be related to the size of the egg clutches produced. Western Toads are described as "explosive" breeders, with females producing 5000-15000 eggs at a time. It is thought that this effort is so energetically draining that females can only breed every few years.
Habitat
Western Toads are native to western North America. In Canada, they are found in British Columbia, Alberta, Yukon and Northwest Territories. In Alberta, they are found primarily in the western and central part of the province. They tend to live near lakes, streams and ponds in boreal, foothill and mountain regions.
Conservation
Western Toads populations are considered "Sensitive" in Alberta.
References Alberta Environment And Parks Species At Risk Public Registry
Top Of Page
Canadian Toad Anaxyrus hemiophrys
Species at Risk: May Be At Risk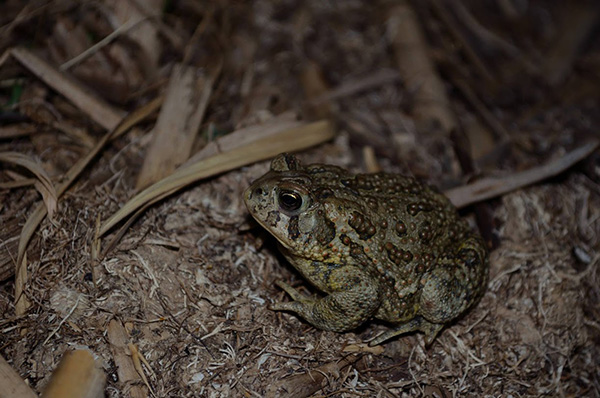 Description
Canadian Toads range in size from about 1.5-3" (3-7.5 cm). They come in a variety of colors, from brownish to greenish to grey, with reddish tubercles/warts located in dark spots. The "Hemiophrys" in the scientific name means "eyebrow", referring to the pronounced cranial crest. They have tubercles on their back feet for burrowing. They are usually diurnal (awake during the day) and burrow overnight in sandy or loamy soil. However, they will also hunt at night if it is warm enough. Canadian Toads feed on a variety of invertebrates, including beetles, worms and ants.
Habitat
Canadian Toads are widely distributed throughout Alberta. They are usually found along riverbeds, ponds, or sandy lake shores. Like all amphibians, they require water for breeding. Males begin calling in May, even at very low temperatures (5 degrees C). Females will lay 4000-7000 eggs. Once breeding is completed, they are known to stray quite far from water in grasslands, aspen parkland and boreal forests. They over-winter in communal burrows below the frostline.
Conservation
The Canadian Toad is listed as "May be at Risk". This is because there is insufficient data to determine its true status. The main threat to Canadian Toads is habitat loss due to droughts, drainage of wetlands, and human activity.
References
Peterson Field Guides: Western Reptiles and Amphibians (3rd ed) by Robert C Stebbins. Alberta Wildlife Alberta Wildlife Fact Sheet
Top Of Page
Columbia Spotted Frog Rana luteiventris
Species at Risk: Sensitive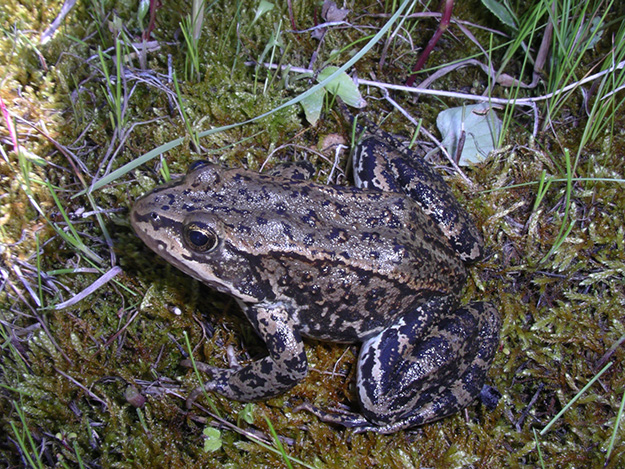 Description
Columbian spotted frogs are a medium sized frog (up to about 4" or 10 cm). They are considered a "True" Frog. True Frogs are considered to be any western tail-less frog with distinct dorso-lateral folds. They are green to brown, with black spots on the dorsum (back). As the scientific name suggests, they are yellow-white under the belly ("Lutei" means yellow, and "ventris" refers to the ventral side, or underside, of the animal). They live a very aquatic lifestyle, which is reflected in their very webbed feet. They are primarily nocturnal, meaning that they are most active at night. They feed on insects, as well as crustaceans, mollusks and arachnids. Breeding season for Alberta's Columbian Spotted Frogs is late May to June after the snow melts. Female will lay up to 1500 eggs, which are left floating free in the water column, and hatch into tadpoles in only 4 days! Growth, metamorphisis and maturity depend on the water temperature and the length of the summer. It can take up to 6 years to reach sexual maturity.
Habitat
In Alberta, Columbian Spotted Frogs are limited to the mountainous areas in the West of the province. They live in lakes, ponds, slow-moving streams and marshes in alpine and sub-alpine regions. They are prone to predation, and therefore have a strong need for low-growing vegetation (algae, aquatic plants) in and around their selected body of water. They over-winter in pond bottoms, below the ice.
Conservation
Columbian Spotted Frogs are not widespread in Alberta, and are considered to be Sensitive. They are threatened by introduced fish and habitat fragmentation
References
Top Of Page
Great Plains Toad Anaxyrus (Bufo) cognatus
Species at Risk: May Be At Risk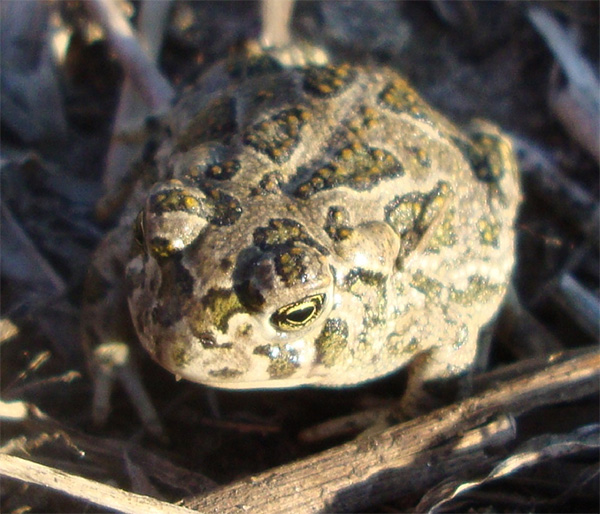 Description
This is a nocturnal, medium sized toad 45-115mm in length. Perhaps its most characteristic feature is its large olive or green patches with pale coloured borders. These patches are usually symmetrically paired on the back. A light dorsal stripe may also be present. The belly is white and young toads have numerous small red tubercles. This toad also has large oval paratoid glands and cranial crests form an "L" behind each eye and unite in a boss near the nose. Each hind foot has a sharp edged inner tubercle to aid in digging. Great Plains toads burry under the ground to escape extremes in temperature and to sit out droughts. The heavy summer rains awaken them and they are quick and explosive breeders. They breed in the clear and shallow water that accumulates during such weather. They will not breed in muddy water. Males have large sausage shaped vocal sac's and a loud call to attract females. Eats moths flies and beetles and probably any other invertebrate it comes across.
Distribution
Quite simply as their name suggests, this species lives in the Great Plains. This is prairie and desert habitat. They range from Southern Alberta and Saskatchewan down to Mexico and at altitudes from sea level to 2440m. In Alberta you can find them south of the Reddeer river and East of Brooks, Vauxhaul and Taber primarily associated with the South Saskatchwan river system.
Conservation
There have been population declines for this toad since the 1980's. In Alberta the primary culprit is habitat loss due to agriculture. Cattle will trample and muddy potential breeding habitat.

References The Amphibians and Reptiles of Alberta by Anthony P. Russell and Aaron M. Bauer Western Reptiles and Amphibians 3rd Edition by Robert C. Stebbins
Top Of Page
Northern Leopard Frog Lithobates pipiens
Species at Risk: At Risk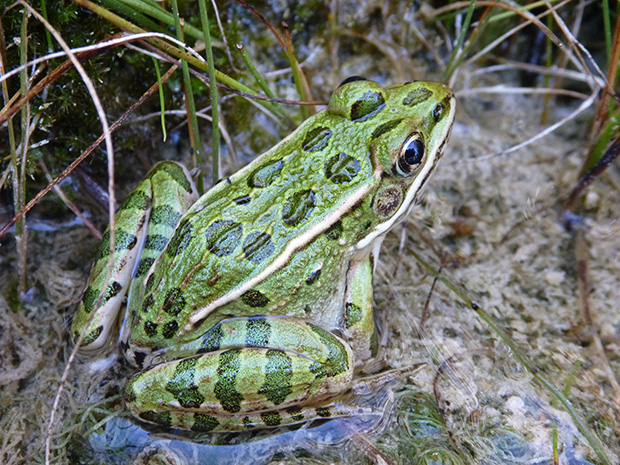 Description
Like the Columbian Spotted Frog, Northern Leopard Frogs are considered "True Frogs". Like all "True Frogs" they have dorsal lateral folds running from the back of the eye extending down the back. They range in size from 2-5" (5-13 cm). They are a very beautiful frog, with green to brown coloration over the back, white to green under the belly, and dark, circular spots with a lighter ring border over the back, sides and limbs. They are quite aquatic, and therefore have well-developed webbing on the feet. Adult Northern Leopard Frogs feed on insects, small mammals, small fish, worms, and other frogs and tadpoles. Cannibalism has been reported in Northern Leopard Frogs. They are nocturnal. Breeding sometimes will start even before the ice has left their breeding site, sometimes starting in April, but mostly in May. Females produce 4000-7000 eggs, which are attached to vegetation or the pond bottom. It takes 1-3 weeks for eggs to hatch. It takes 9-12 weeks for tadpoles to grow metamorphose into froglets, and they are not sexually mature for 2-3 years.
Habitat
In Alberta, Northern Spotted Frogs are found in the south eastern part of the province. They occur in permanent water bodies, such as streams, marshes, bogs, ponds, lakes, rivers and canals, in grasslands, brushland, and woodlands. Like the Columbian Spotted Frog, they prefer water bodies with aquatic vegetation they can hide in and around. They over-winter at the bottom of ponds.
Conservation
Northern Leopard Frogs are classified as At Risk. Threats include habitat loss and fragmentation (increasing distance between appropriate bodies of water), toxins, the introduction of fish to their habitats, drought, disease, etc. Many populations are too small to remain viable.
References
Peterson Field Guides: Western Reptiles and Amphibians (3rd ed) by Robert C Stebbins. Wikipedia Alberta Wildlife
Top Of Page
Plains Spadefoot Toad Spea bombifrons
Species at Risk: May Be At Risk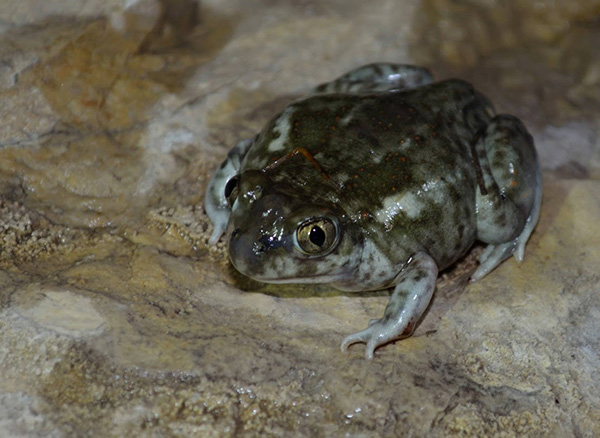 Description
Plains Spadefoots are a relatively small toad, at 1.38-2.36" (3.5-6 cm). Unlike the "True Toads", they have mostly smooth skin, no parotid gland (this is the gland that produces toxins in True Toads), vertical pupils, and teeth in the upper jaw. All Spadefoot toads have a small black "spade" tubercle on the undersides of their back feet, which allow them to burrow backwards, sometimes up to almost a meter underground! They are brown to dull green. They do still have small warts, but they are not nearly as prominent as in True Toad species. They are nocturnal, and are most active at night during rain storms. It is very difficult to find them when they are not breeding and calling, due to their burrowing lifestyle. They feed on a variety of insects, including flies, moths, beetles and spiders.
Breeding occurs mostly in May, though it can linger into July. If there is a drought, the spadefoots may not breed at all that year. Females produce up to 2000 eggs in masses of 10-250 eggs, which are attached to vegetation under the surface of the water. Eggs hatch in just 2 days, and metamorphose into toadlets in just 21-34 days (this can occur even faster is more southerly parts of their range). This rapid development allows Spadefoots to capitalize on the use of temporary water bodies for breeding.
Habitat
In Alberta, Plains Spadefoot Toads are limited to the south eastern corner of the province. Because they are burrowers, they prefer loose, sandy or gravelly soil. They primarily inhabit short grass prairie, sand dunes (with and without vegetation), floodplains, and aspen parkland.
Conservation
Plains Spadefoot Toads are classed as May Be At Risk in Alberta due to habitat loss and disturbance, especially their breeding ponds. Road kill during migration to their breeding sites is also a concern. Dramatic population declines have been observed during periods of drought, which makes them susceptible weather changes due to global warming
References
Peterson Field Guides: Western Reptiles and Amphibians (3rd ed) by Robert C Stebbins. Alberta Wildlife Alberta Wildlife Report
Top Of Page
Wood Frog Lithobates sylvaticus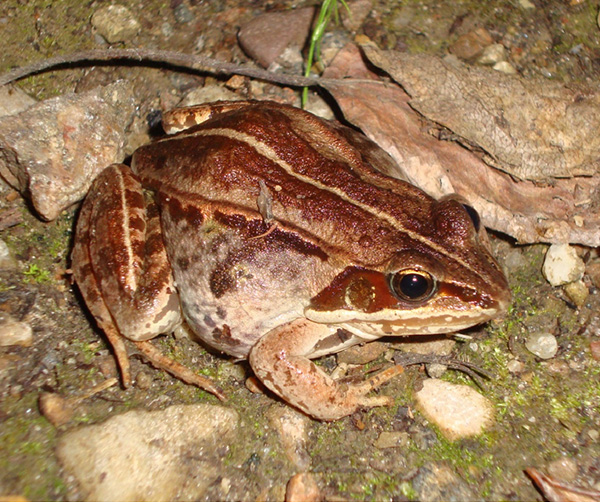 Description
Previously Rana sylvatica the wood frog is the ubiquitous Albertan frog. It is found in water bodies large and small over all but the driest southeastern corner of the province. This is the frog you find hopping across the hiking path or sharing your back yard. To identify this frog from others you may come across there are several features to look for. Generally a shade of brown, this 3-6cm long frog is most known for it's dark brown mask. This mask starts thinly at the nose and runs through the eye to just past the ear drum, which is smaller than the eye. Accentuating the mask is a white stripe just below it on the upper lip. The wood frog also has prominent dorsolateral folds (a ridge that runs down each side from near the eye to the groin). Tadpoles are difficult to differentiate because they are so small, but wood frog larvae tend to be lighter green with a cream coloured belly. When walking along a pond's edge you may encounter wood frog eggs, which are seen as a large clear gelatinous mass with small dark developing larve within. The egg masses are usually attached to vegetation but may be seen free floating. They may include 2000-3000 eggs.
Habitat
The wood frog has a vast northern range that spans from the east, to the west coast and is the only amphibian species found north of the Arctic Circle. In Alberta, wood frogs are often found far from water, but they are most often found in association with ponds, lakes, flooded farmland and sloughs, bogs, and also along river and creek valleys. They hide, often frozen, in leaf litter, soft soil or muddy banks during the winter and breed shortly after the snow melts. The wood frog call is a soft, ducklike cackle and is rather unique among North American frogs.
Conservation
Many species of amphibians have shown strong declines throughout the world but the wood frog remains strong throughout Alberta. Draining of wetlands and pollution seem to be it's largest threats.

References The Amphibians and Reptiles of Alberta by A.P.Russell and A.M.Bauer The Frogs and Toads of North America by L. Elliott, C. Gerhardt and C. Davidson

Top Of Page
Bullsnake / Gopher Snake Pituophis catenifer
Species at Risk: Sensitive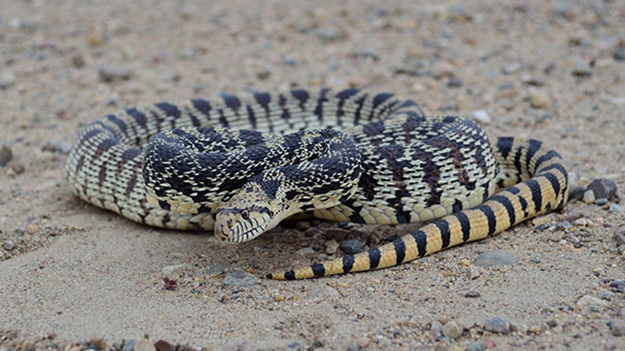 Description
Bullsnakes are the largest snake species in Alberta, reaching up to 2 m in length. They are heavy-bodied, light colored, with dark brown, black or reddish rectangular blotches along their length. Bullsnakes are also the only snake species in Alberta that kills their prey by constriction. As recent research has shown, constrictors do not actually kill their prey by suffocating them, as previously believed. Instead, they squeeze their prey, causing severe derangement in their blood pressure, causing circulatory collapse. Bullsnakes are primarily rodent-eaters, but will also eat birds and eggs. Because of their taste for rodents, they are valuable as a natural biological control for farmers. Bullsnakes are oviparous, meaning that they lay eggs. They can lay 2-24 eggs, 1-2 times during the summer. Young snakes emerge in the late summer or early fall.
Habitat
Bullsnakes are burrowers, using their modified rostral (nose) scale to dig. They are diurnal (most active during the day). They are found in desert, short-grass prairie, and dry, open scrubland habitats in the south eastern corner of Alberta, with the Red Deer River basin being the northern edge of their range. When herping, look for rock piles and boulders in areas with sandy soil.
Conservation
Threats to the Bullsnake include cultivation and irrigation of their grassland habitats, increased road density (road mortalities). Sadly, they are also the victims of human persecution, primarily directed at their hibernacula (the gathering place where they hibernate), as the snakes are big, look a bit like rattlesnakes, and will shake their tails when frightened (though they do not have rattles). There is insufficient population information for us to determine their threat status at this time.
References Alberta Conservancy Association "Reptiles of Alberta" Canadian Herpetological Society COSEWIC Species Database: Bullsnake.
Top Of Page
Mountain Short-horned Lizard Phrynosoma hernandesi
Species at Risk: At Risk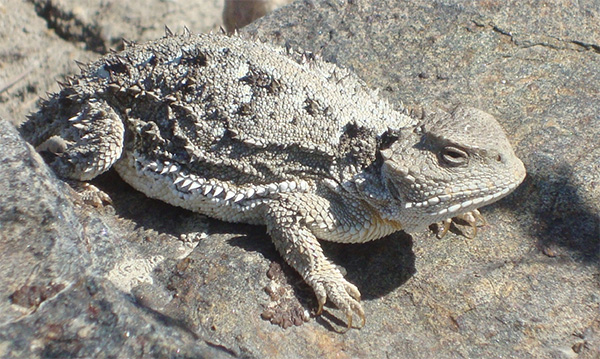 Description
Alberta only has one lizard species, but it certainly is an interesting character. The short horned lizard is a small, stout animal with a short neck, legs and tail. This physique, gave it the nickname "horny-toad", of which after closer inspection, it shares no resemblance to. Short horned lizards are covered in scales, most of them pointed, breaking up it's outline amongst the rocky soil and making it a hard prey item to swallow. A small crown of horn-like scales borders the back of the head and along the sides, from armpit to groin, is a single row of fringe scales. Overall colouraton is a mottling of light sandy brown, with greys and darker brown patches. The belly is a uniform cream white. The short horned lizard has a snout to vent length of 4-7cm. Males are smaller than females, and also have a clear hemi-penile bulge and enlarged femoral pores. Eight to thirteen live young are born in late July or August and they eat a mix of invertebrates with a large portion being ants. When winter comes, they dig themselves a shallow retreat underground at the base of the coulee. Snow collects here and may be essential insulation to protect the lizard from extreme cold.
Distribution
Dry coulees, south facing hills, sagebrush and juniper plants adjacent to short-grass prairie are the habitat you'll find these lizards in. You might ask why our "Mountain" short horned lizard is confined to Alberta's flat, and arid southeastern corner. This is because in our province this species is at the northern limit of it's range. These lizards are very cold-weather adapted, and as such, further south where it is even hotter and drier, they inhabit the cooler high elevations, to about 3400m above sea level.
Conservation
The mountain short horned lizard in Alberta has a limited range, with low population densities. It is a very cryptic animal and hard to find, but once stable populations may be declining or disappearing. Their very specific habitat preferences make them susceptable to habitat destruction. The oil and gas industry may have negative effects as they explore and uncover new reserves. Global warming is seeing less snow cover, which may affect their ability to hibernate without freezing.

References The Amphibians and Reptiles of Alberta by Anthony P. Russell and Aaron M. Bauer Western Reptiles and Amphibians 3rd Edition by Robert C. Stebbins
Top Of Page
Plains Gartersnake Thamnophis radix
Species at Risk: Sensitive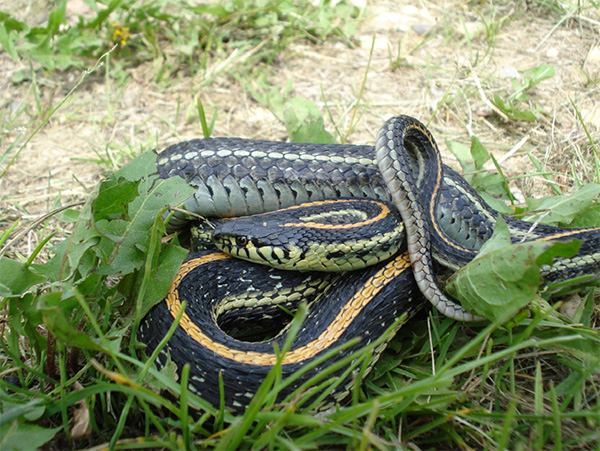 Description
Plains gartersnakes are found chiefly in short grass prairie and aspen parkland. In Alberta they range throughout the eastern half of the province south of Cold Lake. Their most striking feature is the bold solid orange vertebral stripe. There is a lighter yellow lateral stripe on each side as well. While the background is described as an olive to brown with dark spots creating a checkerboard pattern, in Western Canada this generally blends into a largely solid black backround creating some of the most beautifully contrasting examples of the species. The ventral scales can be whitish, bluish green or grey. Females are larger than males, and total lengths of adults are from 50cm to 100cm. Mating occurs upon spring emergence from the hibernaculum. Young are born live, in a membranous sack that is broken open during parturition or immediately afterwards. This can be a prolific species and starting in July females may birth 5-40 young. As many as 92 offspring have been in a single litter. When picked up these snakes are reluctant to bite, but quick to musk. That is, they smear onto you the contents of scent glands and the cloacal in an attempt to deter a would-be predator from an otherwise tasty snack.
Habitat
These snakes are habitat generalist within their range. They live near ponds, lakes, streams, marshes and dugouts, but will also stray a long distance from water. These snakes are often found in urban areas as long as enough suitable habitat persists. In addition to a water source, it is imperative that these snakes have a place to overwinter. This may be in naturally occurring sink holes, mammal burrows, rock piles or fishers among tree root systems. Plains garters feed on fish, amphibians, small mammals, worms, invertebrates and even carrion.
Conservation
The plains gartersnake appears to be doing well in Alberta. There are many thriving populations and they are often seen by hikers and campers on a sunny summer day. Anecdotally gartersnakes have been decreasing in numbers. Care must be used to keep this a common species and monitoring programs need to be used to assess this decline. The biggest threats to the gartersnake are the draining of wetlands and the destruction of hibernation sites. Gartersnakes are not a protected species in Alberta but the animals and their hibernacula are under protection during the winter months while they are dormant. Unfortunately, this leaves an open window for the destruction of these sites during the summer. Snake populations without a place to spend the winter are doomed.

References The Amphibians and Reptiles of Alberta by A.P.Russell and A.M.Bauer Western Reptiles and Amphibians Third Edition by Robert C. Stebbins
Top Of Page
Prairie Rattlesnake Crotalus viridis
Species at Risk: Sensitive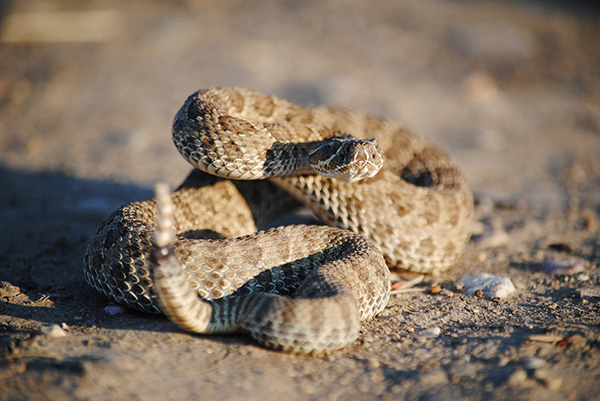 Description
The prairie rattlesnake is Alberta's only member of the Viperidae family, the vipers. More specifically it belongs to the subfamily Crotalinae, the pit vipers. Members of this family have verticle pupils and a heat sensitive pit organ inbetween the eye and the nostril. This is used to detect it's warm blooded prey. This snake is dangerously venomous, but not considered lethal. Nevertheless, it should be admired from a distance when found in the wild. It is a moderately large snake by Alberta standards, and adults sizes range from 40cm to 1.4 metres. Interestingly enough populations near urban areas seem to be selected towards smaller adult sizes, with larger animals being killed off by human activity.* The males are the larger of the two genders, and both may show variants of colouration from grey, to tan, to an olive green. All have the typical pattern of well defined, darker blotches on a lighter background. Of course their namesake rattle is at the end of their tail. They are born with a single "button", and each time they shed a new rattle is added to the length of the rattle. Rattles regularly break off as they get worn or damaged.
Habitat
The prairie rattler is in the most northern part of it's range here in Alberta. It can also be found all along the great plains down into northern Mexico. Among rattlesnakes, this species is most known for it's communal denning habits. Some of the largest rattlesnake dens in the world are right here in Alberta. These snakes live in the short grass prairie in the southeastern corner of our province, utilizing mammal burrows, crevices and caves as daily refuges, or to hibernate during the winter. It is mainly crepuscular, active during sunrise and sunset, but may be found active at any time.
Conservation
Habitat destruction is a large problem for most reptiles. Conversion of rangeland to cultivation is the problem associated with the prairie rattlesnake. Unfortunately the number one threat towards rattlesnakes seems to be human hatred. While this species is very economically significant as a rodent controlling predator, it is targeted on roads by vehicles and killed on site by many fearfull landowners. Accounts suggest that Albertan populations have been reduced in past decades but it appears the rattlesnake is still present in healthy numbers.

References The Amphibians and Reptiles of Alberta by A.P.Russell and A.M.Bauer A guide to the Rattlesnakes of the United States by Brian Hubbs and Brendan O'Connor Snake by Chris Mattison *Personal communications – CARCNET Saskatoon 2009
Top Of Page
Red-sided Gartersnake Thamnophis sirtalis
Species at Risk: Sensitive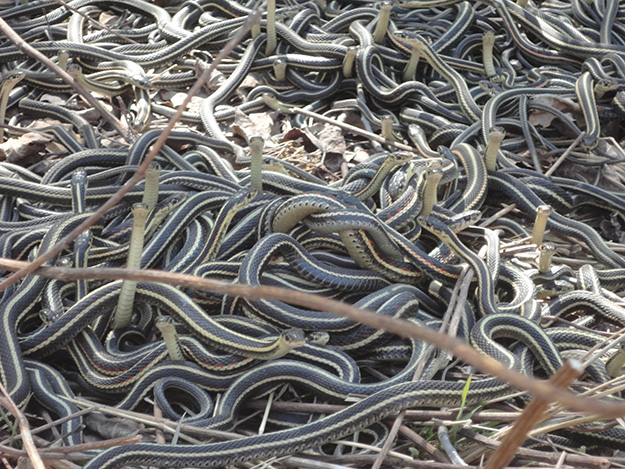 Description
The Red-Sided Garter Snake is a sub-species of the Common Garter Snake (T. sirtalis). There is some variation in color, but the most common coloration is dark green to black with 3 yellow stripes. Between the yellow stripes are vertical red to orange bars, which give this subspecies its name. They range in size from about 50 cm to 1.5 m, and are a very slender snake.
Red-sided garter snakes are famous for congregating in large numbers (hundreds to thousands) in their over-wintering sites, and then emerging in great numbers in the spring for a massive mating frenzy before dispersing. They are mature at 2-3 years of age. Mating balls of dozens of males will congregate around a small number of females. The famous Narcisse Snake Dens north of Winnipeg are occupied by red-sided garter snakes, as is the Lake Eden den site near Edmonton (see the projects page). Garter snakes are one of the species of snakes that bear live young (viviparous, as opposed oviparous, where they lay eggs). Each female can produce 10-30 offspring in the summer. They do also sometimes breed in the fall.
Contrary to popular belief, garter snakes are actually venomous, just not enough to be harmful to humans. Garter snakes feed on vertebrates, like frogs, toads, salamanders, fish, small mammals, birds and eggs, as well as invertebrates, like earthworms, leeches, and insects.
Habitat
Given the dietary preferences of red-sided gartersnakes, they tend to live near bodies of water where they can find their prey, including ponds, creeks, marshes, ditches, streams, etc.
Conservation
Red-sided garter snakes are currently considered secure in Alberta, though some local populations are under threat. Road mortality is a significant concern, especially in the spring when they are dispersing over many kilometers from their communal hibernacula. Given how many snakes will gather in a single den, they are also prone to natural disasters and human activity affecting their communal den sites, such as flooding, freezing, or attacks by misguided humans.
References Peterson Field Guides: Western Reptiles and Amphibians (3rd ed) by Robert C Stebbins. The amphibians and reptiles of Alberta : a field guide and primer of boreal herpetology (2nd ed) by Anthony P. Russell, Aaron M. Bauer, Wayne Lynch, and Irene McKinnon. Canadian Herpetological Society
Top Of Page
Wandering Gartersnake Thamnophis elegans
Species at Risk: Sensitive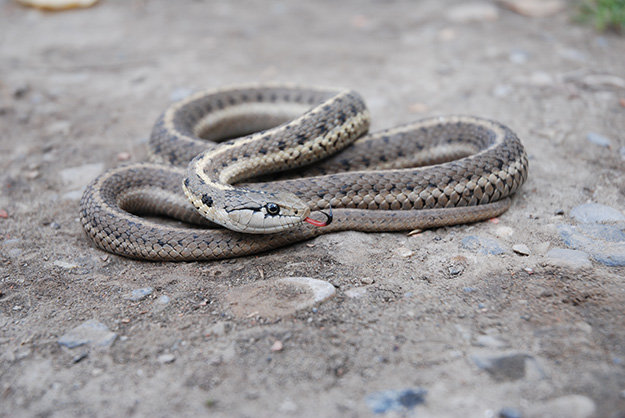 Description
Colour can be variable, but typically the body will be a dark grey or brown; there will be a yellow to cream-coloured dorsal strip running down the length of its body along the midline, and a similar coloured lateral stripe running down both sides of the body. Two rows of dark grey or black spots stagger down the length of the body between the dorsal midline and lateral stripes. The belly is patternless and can have colour ranging from yellow, olive-green, or grey. Adult lengths can range from 40 cm to 100 cm with females typically reaching greater adult lengths compared to their male counterparts. The active season is usually from April-October. Mating occurs when they emerge from their hibernacula in the spring and young are born live during mid to late summer; 4-21 young may be born in a litter. Wandering gartersnakes consume both invertebrate and vertebrate prey. Slugs, worms, snails, and leeches make up the invertebrate part of their diet, while tadpoles, frogs, small fish, and sometimes mice make up their vertebrate prey.
Habitat
This species of garter snake can be found from the coast and interior of B.C. to the southwestern portion of Saskatchewan. In Alberta they can be found in the southern half of the province, occupying portions of the rocky mountain, foothills, parkland, and grassland Natural Regions. They are not always found near water, although they are usually within relatively close proximity to it. Wandering gartersnakes can be found in a variety of habitat types including badlands, mountain valleys, grassy meadows, open forest, wetlands, and riparian areas of streams and lakes. They can be seen most often mid-day during the cooler spring and fall months, while it is more active early morning or evening during the hotter summer months. A crucial habitat feature for these snakes (and all snakes) is a place to overwinter in. Structures capable of satisfying this need include abandoned mammal burrows, rock crevices, and caves. Since snakes are ectothermic they cannot regulate their own body temperature, so the hibernaculum must provide shelter below the frost line to provide adequate insulation from the cold winter temperatures.
Conservation
Although it can be a common species, populations can be localized. In Alberta they are considered a Sensitive species. Habitat loss, intentional persecution, and destruction of hibernacula are the most common threats to snakes. In the prairies where land-use is dominated by agriculture, wetland drainage poses a threat to local populations. Snake hibernacula are protected under the Alberta Wildlife Act from 01-Sept to 30-April, but are left open to potential destruction during the late spring and summer months. A citizen science program called the Alberta Volunteer Amphibian Monitoring Program (AVAMP) collects volunteer information on amphibians as well as reptiles. Observations of individuals and hibernacula can be submitted to provide a better understanding of distribution, population size, and general status of reptiles and amphibians in Alberta.

References

AEP-Amphibian Monitoring Canadian Herpetological Society Fisher, C., A. Joynt, R. J. Brooks. 2007. Reptiles and amphibians of Canada. Lone Pine Publishing, Edmonton, AB. p 86-87. Government of Alberta. 2012. Alberta wild species general status listing-2010. Alberta Sustainable Resource Development, Fish and Wildlife Division, Edmonton, AB. 242 pp. Wildlife Act RSA 2000 Chapter W-10
Top Of Page
Western Hognose Snake Heterodon nasicus nasicus
Species at Risk: May Be At Risk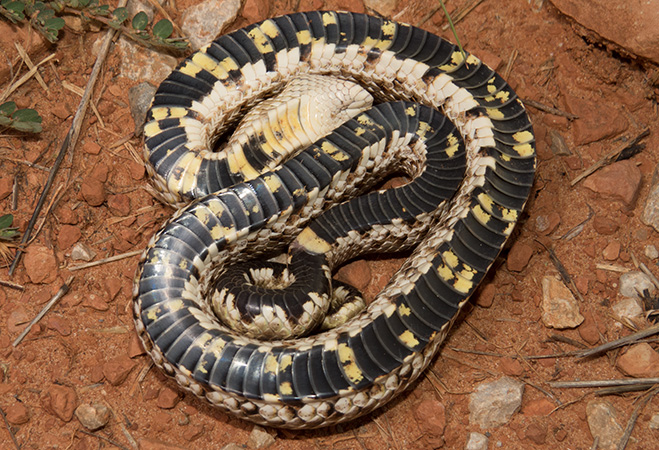 Description
Western hog-nosed snakes are described as being a small, heavy-bodied snake. The "hog-nose" in their common name refers to the upturned, spade-like snout, which they use to burrow and dig out their primary food source, toads. They are naturally resistant to the toxins produced by toads as defense against predators. They do also eat frogs, salamanders, lizards, snakes (particularly garter snakes), birds, small mammals, bird and reptile eggs.
Western hog-nosed snakes are diurnal, meaning that they are active during the day.
Adult Hog-nosed snakes can reach 75 cm in length, with the females typically being larger than the males. They are oviparous (laying eggs, not giving birth to live young), and can lay 4-23 eggs. In Alberta, eggs are deposited from mid-June to early July. The incubation period is about 60 days.
Hog-nosed snakes are famous for their threat displays. They will hiss and flatten themselves to make themselves look larger, and will even exhibit closed-mouth strikes. If the bluff fails to deter the threat, they will fake death, flipping on their backs, gaping the mouth, hanging the tongue out, and salivate. Of course, snakes performing this behavior are deeply stressed, so please do not try to provoke this behavior if you meet one.
Interestingly, these snakes until fairly recently were considered non-venomous. Though they still did not present a risk to humans (there has never been a reported death due to a Hog-nose bite), recent evidence shows that they are actually rear-fanged, with large, ungrooved teeth, and mildly venomous. They produce the venom (or toxin, depending on who you believe), in Duvernoy's Gland, which is a modified salivary gland, not a venom gland as found in other better known venomous snakes. Their fangs are also not hollow, so they cannot inject the venom, and must depend on a chewing action to get the venom into the wounds cause by their teeth.
Habitat
Western hog-nosed snakes (Heterodon nasicus nasicus) can be found in the short and mixed grass prairie of the south-eastern corner of Alberta. Southern Alberta appears to be the most northern limit of their range. In Alberta, they have most frequently been reported in sandy locations within the grasslands, but this may be the result of sampling bias (we expected to find them there, therefore we search there more frequently). Throughout their range (outside Alberta), they are known to inhabit sandy and gravelly prairies, open brushland, woodlands, farmland, and floodplains.
Conservation
We have insufficient information on the Western Hog-nosed snakes in Alberta to know what their true status is. Certainly, they are considered to be rare in Alberta, but current evidence suggests that their populations are stable. Possible limiting factors and threats for Hog-nosed populations in Alberta may include lack of suitable habitat, agricultural activities, and road mortalities.
References Peterson Field Guides: Western Reptiles and Amphibians (3rd ed) by Robert C Stebbins. Alberta Conservation Association U Alberta Biology Wikipedia Western Hognose Snake Wildlife Status Report
Top Of Page
Yellow Bellied Racer Coluber constrictor
Species at Risk: Sensitive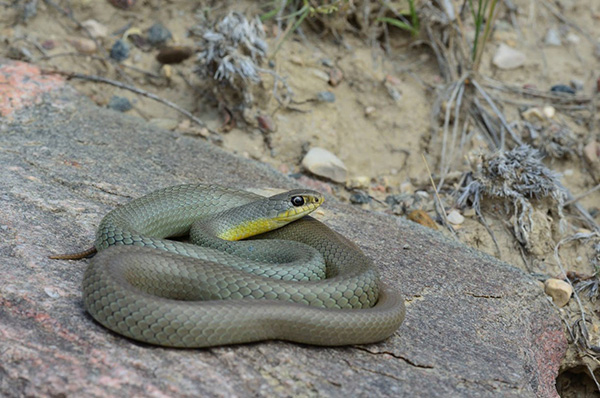 Description
Yellow-bellied Racers are extremely rare in Alberta. For many years, there was great debate as to whether they were even a native species. As the name would suggest, this is a slender, fast-moving snake with smooth scales. Adults are plain-colored above (grey, brown, olive or slightly blueish) with white to yellow bellies, while the young are pale tan to cream with brown blotches. Adult racers range from 50 cm – 1.5 m in length. They are active, diurnal hunters, with large eyes and excellent vision. In spite of the "constrictor" in their scientific name, they do not constrict their prey to kill it, but instead depend on the strength of their jaws to crush it. Young racers primarily eat invertebrates (grasshoppers, crickets, caterpillars), while adult racers prefer vertebrate prey, like rodents, frogs, and small reptiles. Uniquely, they tend to hunt with their head held up to give them a better view of potential prey items.
Female Yellow-bellied Racers reach sexual maturity at about 2 years of age, and males around 3 years of age. Clutch size is about 9 eggs.
Habitat
Yellow-bellied racers primarily inhabit grasslands, which favor their hunting style.
There is a confirmed yellow-bellied racer den site in southern Alberta, which was discovered in 2014. Given the small numbers of Yellow-bellied Racers in the province, the exact location of the den site in Alberta is a closely guarded secret amongst biologists. We wish to respect this in order to protect them from illegal collection and excessive harassment by curious herpers
Conservation
Given the very small population (<10 000), yellow-bellied racers are considered threatened in Alberta. They are vulnerable to decline from any sort of natural disaster that wipes out their den site (land slides, flooding, etc), as well as the usual pressures of road mortality, habitat loss and degradation, etc.
References
Peterson Field Guides: Western Reptiles and Amphibians (3rd ed) by Robert C Stebbins.
COSEWIC Species Database - Yellow-Bellied Racer
Wikipedia - Coluber Constrictor Flaviventris
Alberta Wilderness - A Focus Done By Nigel Douglas
Top Of Page
Western Painted Turtle Chrysemys picta belli
Species at Risk: Sensitive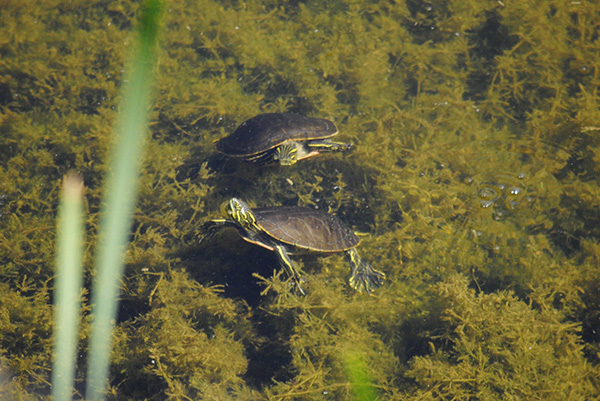 Description
Western Painted Turtles are the largest sub-species of Painted Turtles, with carapace lengths of about 251 mm. They are described as having a long, smooth, unkeeled carapace (top shell). They are generally black, brown or olive, with the front edge of the shield bordered with yellow, orange or red. The plastron (lower shell) is usually marked with red with a large central figure, which has branches extending along the furrows between the scutes (sections of the shell). They also have red and yellow patterns on their limbs.
Their diet consists of aquatic plants, insects, spiders, earthworms, mollusks, crayfish, fish and amphibians. Feeding starts in the spring when water temperatures reach about 15-18 C.
In Canada, mating season is late May-August. Like the familiar red eared slider, the females are generally larger than the males. A female painted turtle may lay her eggs 150 m or more from water, and can lay up to 23 eggs. Incubation averages about 76 days. As with many reptile species, the sex-ratio of the offspring is determined by the temperature of the nest site. With incubation temperatures over 29 C, all females will be produced, and with incubation temperatures under 27 C, mostly males will be produced. New baby turtles over-winter in the nest and emerge in the spring.
Habitat
The painted turtle is the only turtle species native to Alberta. In Canada, their range extends from Lake Nipigon in Ontario, to Vancouver Island. In Alberta, hey are found in a few locations in Southern Alberta, in the Milk River drainage basin, Cypress Hills, the upper Oldman River. Recently (2005), a new population was discovered in the Waterton Lakes National Park. One population reported near Edmonton was thought to be the result of the release of captive individuals.
They are a fresh-water aquatic species, hanging out in ponds, marshes, lakes, ditches and slow-moving streams with soft, sandy or muddy bottoms. During the winter, these turtles hibernate buried in the mud where they will not freeze, and breathe through their skin!
Conservation
Threats to the Western Painted Turtle include habitat loss due to drainage of wetlands, road construction (habitat loss and increased road mortalities), increased predation during drought years, climate change, water pollution, expanding raccoon populations, and release of captive exotic turtles (such as Red Eared Sliders), which compete for resources, and introduce new parasites and diseases into the population.
Remember, it is illegal to keep painted turtles as pets in Alberta. We especially discourage keeping wild-collected individuals. Wild turtle populations are already under stress, and do not need the added pressures of being captured for the pet trade. Depending on climatic conditions, it takes up to 10 years for a painted turtle to reach maturity, and given the low number of offspring they produce, each individual is important in a wild population!
References Peterson Field Guides: Western Reptiles and Amphibians (3rd ed) by Robert C Stebbins. Alberta Conservancy Association "Reptiles of Alberta" COSEWIC Assessment and Status Report on the Western Painted Turtle in Canada, 2006.
Top Of Page